Protecting your Home and Business from Wildlife & Insects!
$25 Off
New Insect Control Customers
Trusted Pest Removal Company Based in Windham, NH
Take back your property from stubborn insects and wildlife with help from the experts at Suburban Wildlife and Pest. For years, our pest removal company in Windham, NH, has remained the preferred pest removal company for families and businesses throughout the region. Thanks to our deep understanding of these animals' biology and habits, we're able to offer science-based solutions that solve your pest problem and prevent intrusive critters from returning. Schedule your inspection today!
---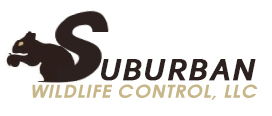 Schedule an inspection to eradicate pests that have made themselves at home on your property.
Hours of Operation
Monday - Friday: 8 AM - 4 PM
Saturday: Available by Appointment Only
Sunday: Closed

Service Area
Wildlife & Insect Control: Southern New Hampshire
Wildlife Control Only: Southern Maine & Northern Massachusetts, including Lowell, Methuen, Haverhill, Newbury Port, Andover, Georgetown, Groton, Pepperell, Shirley, Harvard, Westford, & Massachusetts, as well as Portland, Maine