Our Approach to Pest Inspections
When it comes to stopping persistent wildlife and insect infestations, Suburban Wildlife and Pest has developed a tried-and-true approach that delivers results. Our extensive experience with animals and their habits enables us to target them in effective ways, leading to quicker removals and less resurgence. It all begins with a thorough assessment of your property, so read on to find out what our pest inspections in Windham, NH, entail.
During your inspection, the Suburban Wildlife and Pest team will assess your home or business to identify the offending species. Once we've evaluated the extent of the damage said animal has caused, we formulate a plan to repair the damage. We'll also walk you through the mitigation process, whether it involves trapping, excluding (permanent barrier of entry), harassing, or all the above to permanently solve your wildlife issue. Finally, we'll provide you with a personalized estimate. Please keep in mind that pricing is variable, as each wildlife issue and every building is different.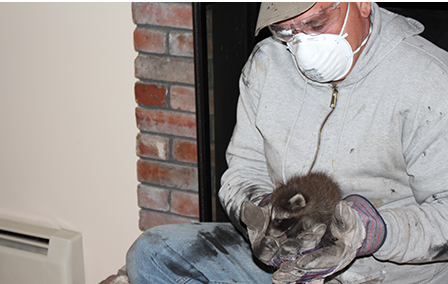 Exclusion: Exclusion is a technique that involves creating a physical barrier or other deterrent to stop wildlife from using your property for food or shelter. Our team's goal is to permanently prevent the offending animals' re-entry. We do this using several strategies, including one-way doors, flight/fight responses, minor carpentry, void sealing/filling, hazing, chimney caps, screening, and habitat modifications. In short, once we successfully remove intrusive wildlife, we ensure your property stays protected from future infestations and damage.
Removal: Upon completing your inspection, our team may determine that evicting and excluding the animal won't provide you with a permanent solution. In those situations, we'll set traps for the offending animal accordingly. However, you can rest easy knowing we strictly follow guidelines set by the New Hampshire and Massachusetts Fish and Game Department. We also follow euthanasia guidelines set by the American Veterinarian Medical Association. Essentially, our goal is to treat every animal humanely while providing long-term and cost-effective solutions. We also handle the dead animal removal process.
As with wildlife, our team will perform a thorough pest inspection to identify the offending insect species. Then, we'll explain your options for controlling the pests. We take an integrated approach to dealing with pest insects, which means we use a variety of techniques to eliminate or manage pests in a way that neutralizes any threats they may pose to you and your property.
Ongoing Maintenance: Year after year, season after season, your property will be exposed to different types of insect pests. Bees, wasps, hornets, roaches, ants, and spiders (to name a few) will all try to enter your home, where it's warm and safe. To minimize the impact these pests have on your family or business's life, be sure to ask about contracting with Suburban Wildlife Control for ongoing insect management.
Green Pest Control: Because we care deeply about the Earth, we strive to manage and control pest problems without compromising the environment's integrity. We're constantly researching management practices and applying most current science available to manage or control your insect issue. By understanding insect behavior, biology, and harborage requirements, we develop programs that suit clients' needs while minimizing harmful side-effects.